What are Dangerous Goods?

Dangerous goods are articles or substances that are capable of posing a significant risk to health, safety or property when transported by air and which are classified/regulated in the IATA Dangerous Goods Regulations (D.G.R.).
For example, paint, dry ice, batteries, automobiles, etc., are regulated as dangerous goods when transported by air.
Offering Dangerous Goods for Air Transport

For air transport safety, a shipper who knows best about his/her articles or substances must ensure that the articles or substances must be properly identified, classified, packed, marked, labeled and documented in accordance with IATA D.G.R
Special Handling of Dangerous Goods by Korean Air

All acceptable dangerous goods are handled with the utmost of special care by our experienced cargo staff, whose members are highly knowledgeable and trained in accordance with IATA D.G.R.

Name/Division
Cargo IMP
Code
Name Class Category Cargo IMP Code
Maximum Surface Radioactive Level In Sv/h (mvem/h) Trasport Index (TI)
Name /Division
Cargo IMP
Code
Explosive
Division 1.1
REX
Explosive
Division 1.2
REX
Explosive
Division 1.4
REX
Explosive
Division 1.5
REX
Flammable Gas
Division 2.1
RFG
Toxic Gas
Division 2.3
RPG
Flammable Liquid
Class 3
RFL
Flammable solid Division 4.1
RFS
Spontaneously
Combustible
Division 4.2
RSC
Oxidizer
Division 5.1
ROX
Organic Peroxide
Division 5.2
ROP
Radioactive
Class 7
Category I-White
RR
Toxic Substance
Division 6.1
RPB
Radioactivce Class 7
Category II-Yellow RRy
Radioactivce
Class 7
Category III-Yellow RRy
Corrosive Material
Class 8
RCM
Miscellaneous
dangerous goods
Class 9
RMD
Infectious
Substance
Division 6.2
RIS
Dangerous When
Wet
Diviision 4.3
RFW
Non-Flammable non-toxic gas Division 2.2
RNG
RCL
Explosives
RXB
RXC
RXD
RXE
RXG
Articles and substances having a mass explosion hazard
Articles and substances having a projection hazard
Articles and substances which present no significant hazard
Very insensitive substances which have a mass explosion hazard
Extremely insensitive articles which do not have a mass explosion hazard
Compatibility Group Assignment according to DGR Table 3.1.A
Articles and substances which present no significant hazard. Effect from accidental functioning is confined within the package
Any compressed gas which, when mixed with air in certain proportions, forms a flammable mixture.
Any non-flammable, non-
toxic compressed gas.
Gases known to be toxic or corrosive to humans and known to pose a health risk
Any liquid having a closed- cup flash point of 60.5C or below (DGR Appendix A).
Any solid material, which is readily combustible, or may cause or contribute to fire through friction.
Such substances are liable to spontaneous heating or to heating up in contact with air and then liable to catch fire.
Substances which, by interaction with water, are liable to become spontaneously flammable or give off flammable gases.
A substance that yields oxygen readily to stimulate the combustion of other material.
Liquids or solids which are dangerous if inhaled, swallowed or absorbed through the skin.
Substances which are known or reasonably expected to contain pathogens and cause disease in humans or in animals.
An organic material (liquid or solid) that can be ignited readily by external flame and then burns with an accelerating rate: some substances react dangerously with others.
A liquid or solid that causes full thickness destruction of intact skin tissue or has a severe corrosion rate on other materials.
Any substance which presents a danger during air transportation that is not covered by other classes. These include Aviation regulated solids or liquids, where materials may have an irritating, noxious or other properties which could cause extreme annoyance or discomfort to crew members preventing them from performing their duties.
Distress signals, Fuse igniters, etc.
Ammunition for hand
weapons, for signals, Safety Fuses, certain types of Fireworks, etc.
These explosives are normally forbidden for carriage by air e.g. TNT,Dynamite or Torpedoes, etc.
Butane, Hydrogen,
Propane, Acetylene,
Lighters
Carbon dioxide, Neon, Fire Extinguisher, or low- temperature liquified gas such as liquified Nitrogen or Helium
Most toxic gases are
forbidden for carriage by air; some are permitted, e.g. aerosols of low toxicity, tear gas devices.
Certain Paints, Varnishes, Alcohols, some Adhesives, Acetone,Petrol, etc.
Matches, sulphur, Celluloid, Nitronaphthalene
Note: Some are self- reactive.
White or Yellow phosphorus, Magnesium diamide
Radionuclides or isotopes for medical or industrial purposes, such as Cobalt 60, Caesium 131 and lodine 132.
Battery acids, sulphuric and other acids, sodium hydroxide, potassium hydroxide, Mercury
Asbestos, Garlic Oil, Life Rafts, Internal Combustion Engines, Vehicles
Magnetrons and non-shielded permanent magnets without keeper bars installed.
Virus, Bacteria, such as HIV (AIDS), Rabies, some diagnostic speci- mens and Medical and Clinical waste
Ammonium nitrate fertilizer, calcium chlorat
tert-Butyl hydroperoxide, listed in Appendix C of the DGR
Arsenic, Nicotine, Cyanide, Pesticides, Strychnine.
Note: Some are totally forbidden,e.g. Bromoacetone
Articles and substances having a fire hazard and either a minor blast or minor projection hazard or both
> 5 (0.5) 500 (50)
TI = > 0 <
> 500 (50)2000 (200)
TI = > 1 10
Poymeric beads
Class 9
RSB
Magnetized
material
Class 9
MAG
Semi-processed polymeric articles, impregnated with a flammable gas or liquid as a blowing agent; may evolve small quantities of flammable gas.
Carbon dioxide, solid/dry ice has a temperature of -79C. On sublimation it produces a gas heavier than air which in an enclosed area and in larger quantities can lead to suffocation.
These materials have relatively high magnetic field strength.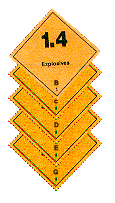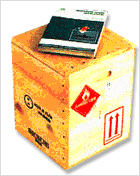 For the purpose of safe transport and emergency handling, markings are required on the outside of packages.
Essential markings
- Proper Shipping Name : Standard names used in the transport
dangerous goods
- UN or ID Number : Specific number for dangerous good
- Full name and address of shipper and consignee

All labels, hazard labels and handling labels must be affixed to packages of dangerous goods to ensure proper handling.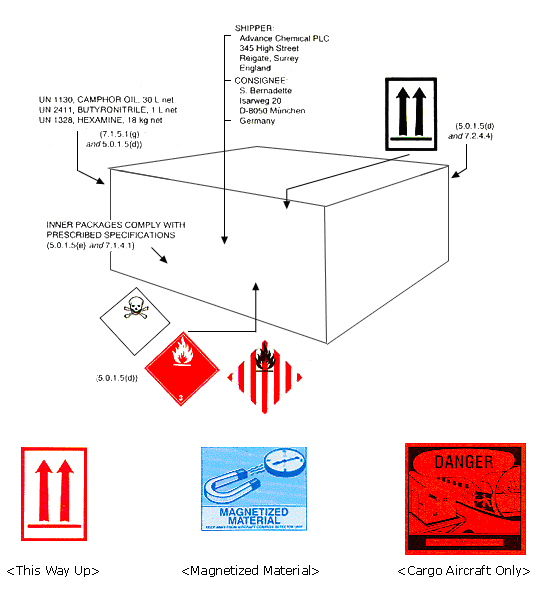 Shipper's Declaration for Dangerous Goods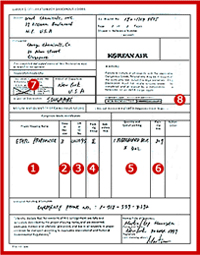 1. Proper Shipping Name
- Standard names used in the transport of dangerous goods
2. Class or Division
- Type of hazard
3. UN or ID No.
- Specific number for dangerous goods
4. Pacing Group : The applicable degree of danger within
the class
- Subsidiary Risk
- Subsidiary Risk (Main rish expressed Class or Division)
5. Quantity and Type of Packaging
- Packaging, quality, quantity, number, etc.
6. Packing Instruction
- Guidance of packing
7. Cargo Air Craft Only or NOt?
8. Radio Active Material or NOt?
Acceptance checklist for Dangerous
Goods

Special Load Notification to Captain